THE MIDDLE SISTER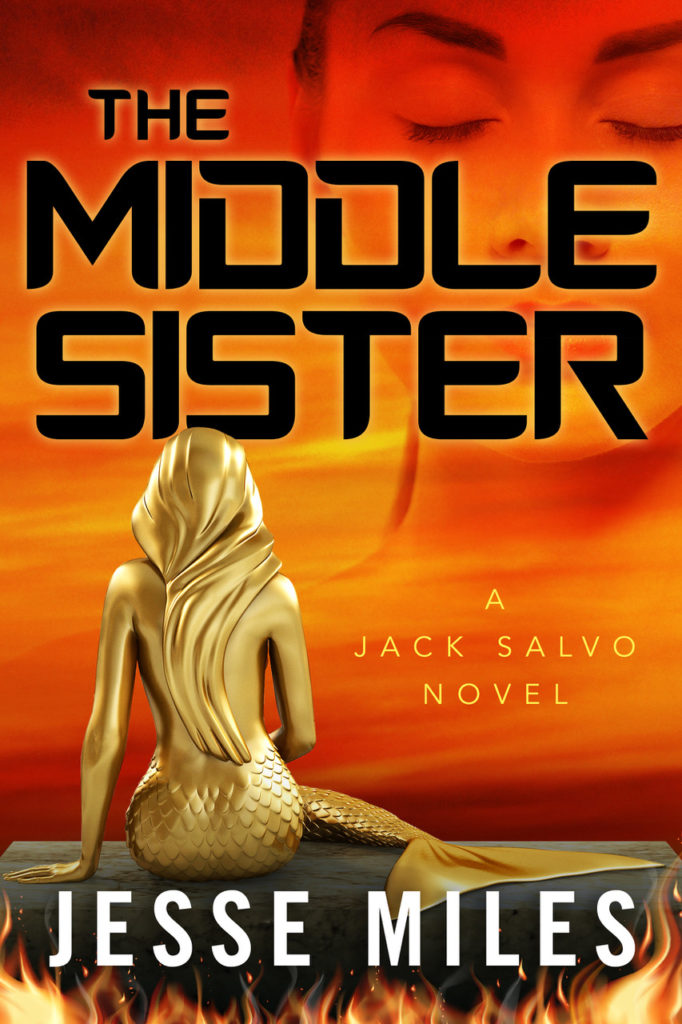 Jack Salvo teaches philosophy one night a week at a local community college, but he pays his bills by working as a Los Angeles private detective.
A wealthy woman hires him to find her wayward daughter Lillie, who has been missing for a week. Salvo figures the girl is probably hiding out with her friends. All he has to do is interview the friends, bust their stories, and deduce the missing brat's location. Salvo soon learns that her "friends" are somewhat parasitical. When he finds Lillie, she is hosting different kinds of parasites — the little ones that help rid the world of rotting corpses. Salvo is then pulled into a maze of murder, arson, and blackmail. During his high-speed run down L.A.'s fast lane, he spars with grifters and gangsters, dodges the cops, and digs up a dark, deadly family secret.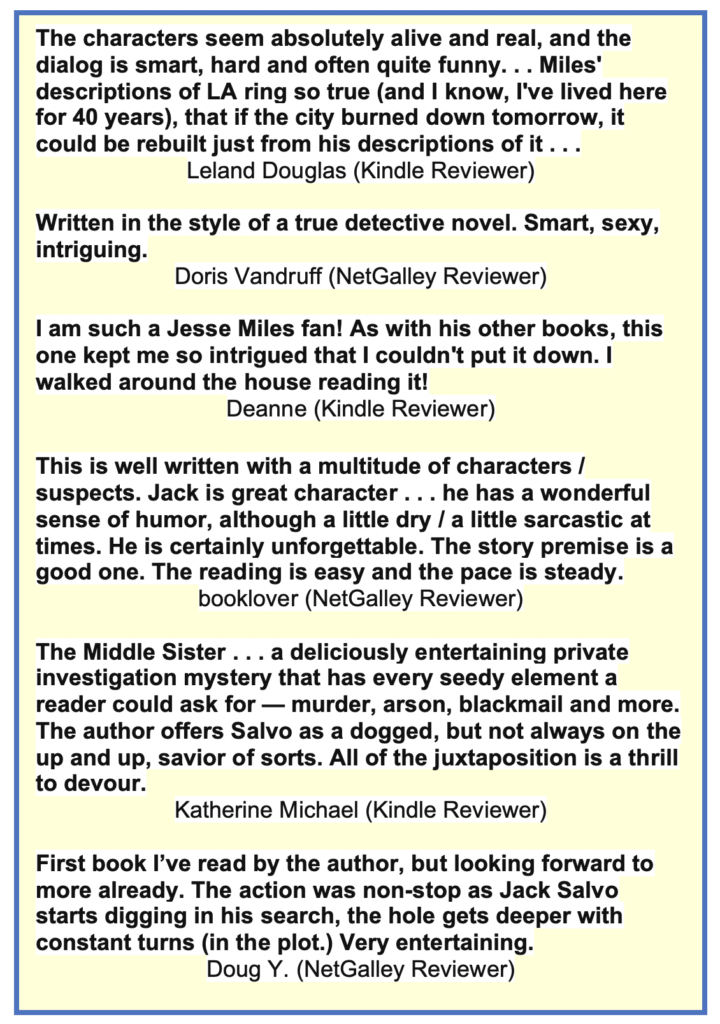 ———————————————————————————————————-
CHURCH OF SPILLED BLOOD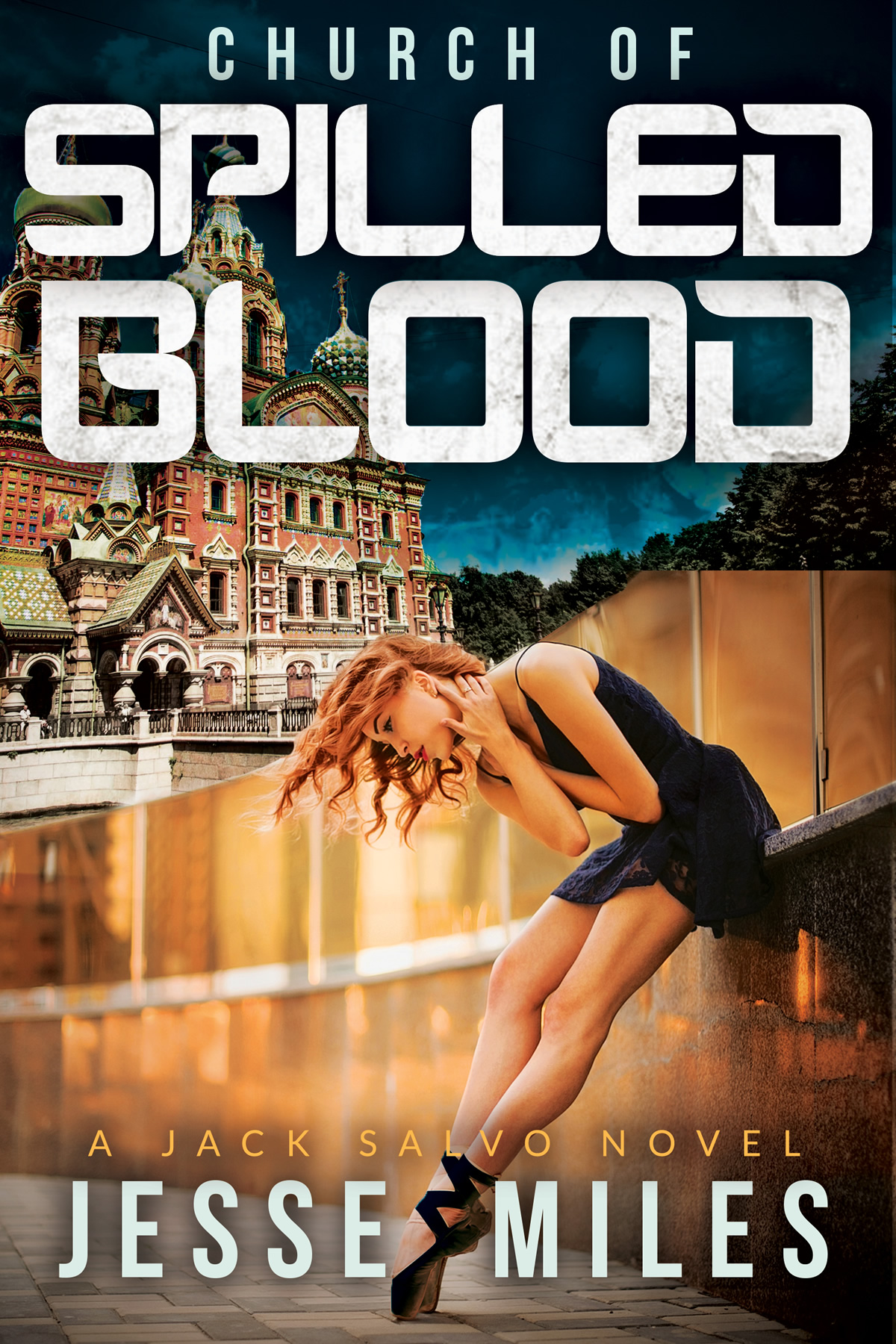 When a group of world-class Russian ballet dancers visits L.A., Jack Salvo signs on as a bodyguard. It's a piece of cake. All he has to do is hang out with beautiful women. Then one of his charges is kidnapped from under his nose. In pursuing the kidnappers, he evades the FBI, finds bullet-riddled bodies near the Hollywood Sign, and dodges bullets. Drawn into a web of deceit and maniacal revenge, he finds himself in Saint Petersburg, Russia. Now he's a fish-out-of-water-an L.A. private eye in a strange land. The most popular historical site in town is called The Church of Our Savior Built on Spilled Blood. When Salvo tries to save the life of a ballerina with whom he has developed a close personal relationship, the church lives up to its name.
"Very enjoyable and well done!! . . . I have a sneaking suspicion this author and his series are about to be snatched up by a publisher."
-Kelly's Book Review Blog
"The action is non-stop and the characters are fascinating."
-John E. Flatley Jr. (Kindle Reviewer)
". . . hits it out of the park on all accounts."
-Shay (NetGalley Reviewer)
". . . reminiscent of Elvis Cole in the books by Robert Crais . . ."
-Nicholas (Kindle Reviewer)
". . . interesting characters . . . written in a style that enhances the presentation of the story."
-Jay (NetGalley Reviewer)
"This is the 2nd book by Jesse Miles that I have read. Having recently been to St. Petersburg, I could visualize exactly where the events took place. I live in the southland and can say the same about his knowledge of the LA landscape."
-Pat D (Kindle Reviewer)
———————————————————————————————————-
DEAD DROP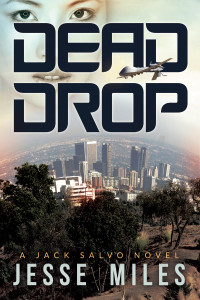 A local aerospace company hires Jack Salvo to investigate a small-time embezzlement. The company assigns a pretty, quick-witted security expert named Lilith Lin to work with him. It's a piece of cake – a direct route to the embezzler and a client with deep pockets. But another embezzlement and a pair of corpses expand his investigation into a labyrinth of espionage, kidnapping and murder. Jack's life and Lilith's are at stake, as are classified secrets that could impact national security.